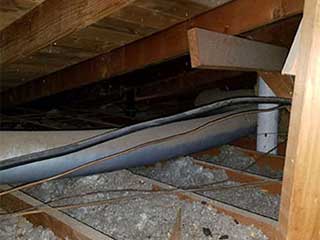 Why Remove Your Attic's Insulation?
There are a variety of reasons as to why the insulation in your attic may need to be taken out. If there's been any sort of a fire, even if it wasn't directly touched, the smoke itself could have easily caused irreparable damage. If water has penetrated it, not only could it be impaired, but also mold could begin to grow and cause health problems.
If your attic was home to rodents, or any other kind of intruder, even if they're long gone they likely have harmed the insulation while they were there. Even age can be a factor. The older it is, the more probable it's not working as well as before. If you touch your insulation with gloves and find that it crumbles, or if your energy bill seems to be getting larger, these all are signs that it's time to get it removed and replaced. Luckily, we can do both!
Experts You Can Count On
Removing insulation can be a messy job if not done right, and can even cause health hazards if particles of the insulation get into the air of your home to be breathed in by your family. That's why it's best to get professionals who can easily and safely take it out, and dispose of it properly. We've been servicing customers just like you around the area for years, so you can trust that we'll get it done right.
Our trained team will use the best tools out there to take out the old insulation, and suction up any loose bits that may be floating around. It'll be cleaned out in no time!
We also offer installation of new insulation to suit your home's needs, and are knowledgeable about all types. That way, you won't have to worry about finding another company for the job. We are a one-stop-shop for all of your insulation needs!
Call Us Today!
It's time to get rid of that nasty old insulation! Contact Attic Cleaning San Francisco now.