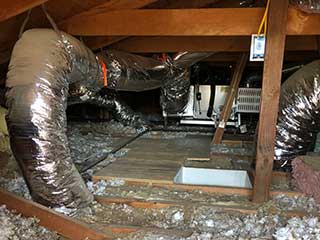 What Are Signs To Look For?
There are many indications both inside and out of your crawl space that can tell you it needs some TLC. If you notice a foul odor, particularly when you're near the entrance, this can indicate that there's rot occurring down below that will wreak havoc if left untouched. If you or anyone else in your household suffer from breathing troubles like asthma, or allergies, and you are still enduring harsh symptoms even indoors, this may mean that mold spores and other agitating particles are coming from the area. If you're able to look into it with a flashlight, look for signs of mold like discoloration, warping and bowing of wood frames, and standing water. These or any other things that stand out to you as seeming odd definitely mean it's time to get it checked out.
Why Should You Care?
As much as your crawl space may seem inconsequential and easily forgotten, it in fact holds many important parts of your home. The pipes for running water, cables, and insulation to assure energy efficiency are all kept down there and are at risk if left unattended. Moisture getting in from a busted vapor barrier can cause pipes to degrade and eventually break over time, creating an even bigger water problem. Wood will rot and can eventually collapse from the weakened structure and may even affect your house's flooring and make it uneven. Insulation that's been damaged by mold or otherwise will allow air to escape and cause your energy bill to rise steadily over time.
We Can Fix It!
Whatever the issue may be, our professionals are ready to get to work with the highest quality tools and equipment to get your crawl space back in working order and protect the rest of your home! We'll take care of broken vapor barriers, make sure any entrances are sealed properly to keep moisture out, and can replace any insulation that's been ruined as well.
Why Wait Any Longer?
Contact Attic Cleaning San Francisco now so we can help!