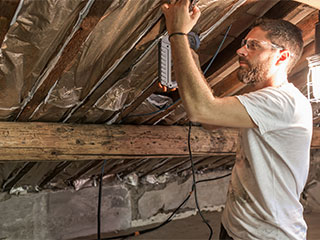 Why Does Insulation Matter?
Insulation in your place of work matters for two reasons: energy costs and a comfortable workplace. It's what helps to regulate the temperature of the building, and ensure that the heating and air conditioning doesn't need to run any more than is necessary. If the insulation is poor, you could be spending more than you should. On top of that, the temperature in the workplace may be all over the place, making it hard for employees to work. Here are four signs that it's time to invest in getting it replaced.
A Rising Energy Bill!

As previously mentioned, the insulation in your company is directly tied to energy spending. If it's not functioning properly, you're bound to notice a steady increase in how much those costs are every month. If you can't determine any other reason why there's so much more energy being used, it's likely that your heating and air conditioning must continue running to try to keep the temperature steady.

Fluctuating Temperatures In The Office!

If you've noticed, or your employees have complained about, inconsistent temperatures in the building, this can be another indication of poor insulation. If your insulation has shifted over time, or has degraded, cold spots will become noticeable where air is getting through. These holes will disrupt the ability of the air conditioning or heating to keep the temperature stable and comfortable. It'll also likely cause distractions among your workers while trying to compensate for being either too cold or too warm while they're trying to work.

Known Environmental Damages!

Has there been fire or water damage in the building? Even just the smoke from fire can damage insulation and impair its ability to work as well, so fire resistance won't really matter. As for water, it cannot only harm it, but mold can grow and spread to cause health hazards. If you're aware of either of these things occurring, it's best to be safe and have your insulation replaced.

Maintaining The Same Insulation For Years!

Age alone can wear down insulation, and make it far less effective than it should be. If your company has never touched it over the years or added to it, it's probably declining in functionality every day that passes. It's time to get something fresh installed now!